Andrea Harkness was born in Cumbria and now lives and works in the small town of Innerleithen in the Scottish Borders. Andrea specialises in designing and making handcrafted woven and mixed-media textile designs with unusual surface textures and patterns.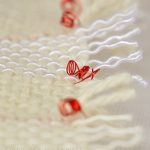 Andrea has an Honours Degree in Design Crafts and a Masters Degree in Woven Textile Design with Computer Application, and has worked in the textile industry since leaving college in 2000.
Andrea uses a narrow width 'Harris' weaving loom which is around 60cms wide. Designs are produced  for interior use – these lengths can be upto 2-3metres long.
The Scarf collection is in progress and updates can be seen on Social Media.
If you'd like to get in touch about this or any other query, please visit the website contact page.